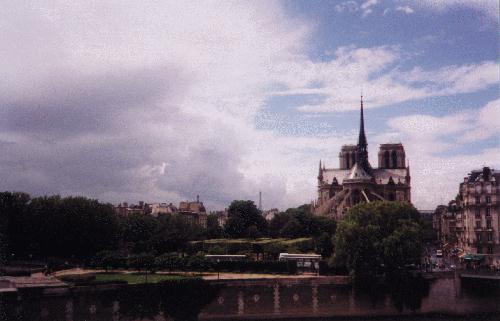 paris
---
ahhhh paris. my family and i went to paris in june of 97. these scans stink for some reason but i think that you will get the idea. we were in paris for 10 days. just paris. it still wasnt enough time. unfortunately i was also travel sick the first 9 days. good thing i took pictures to remember everything with. this is what my bedroom looked like, in the first place we stayed. quel parisian or what? certainly not american. i intentionally did not put the pictures on this page because most of them are huge. so instead i have links to each gratuitous picture.
this is a picture of the inside of st. chapelle. i almost cried. i have never seen something that heartwrenchingly awe-inspiringly beautiful before.
this is a picture of my parents and my brother on the seine looking for postcards
this is pere lachaise. yeah the famous cemetary with jim morrison in it. but did you know it also has edith piaf? heloise and abelard? gertrude stein AND alice b. toklas? colette. oscar wilde. chopin. just to name a few... check out some of them and learn something.
this is a picture of me and rossini in pere lachaise. yes, it rained almost all the time we were there.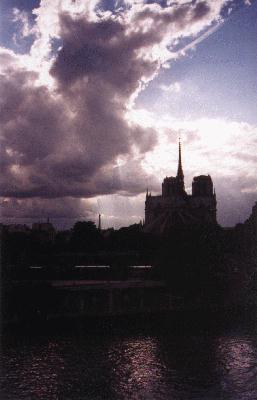 but paris was wonderful. my biggest regret was that i was so sick. next time i will allow 9 days to adapt. the final day i woke up and the sun was shining and i felt wonderful. just in time to pack. at least the view out the window of the livingroom of our flat, on the ile st-louis, was "our dame" right across the water.
background from Ace of Space

---
paris / last update: 9/3/98 all text and images copyright by DogBrain Enterprises and may not be used without express written permission.