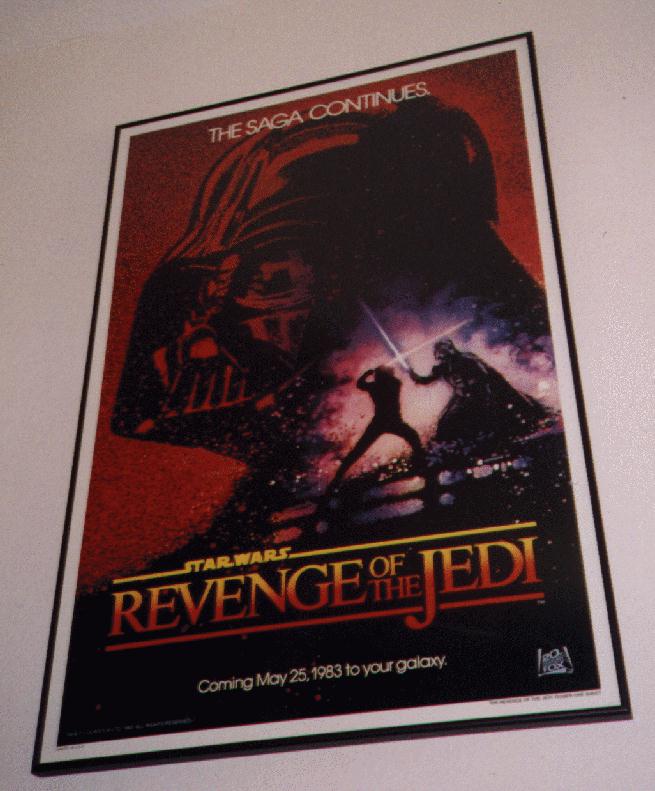 this is my Revenge of the Jedi poster. Revenge. not Return. ok so the picture is fuzzy..

back in '83, i think it was, i joined the Star Wars Fan Club. in my starter pack they sent me all sorts of stuff i thought was nifty at the time, including a Revenge of the Jedi poster, a Revenge of the Jedi t-shirt, and a Revenge of the Jedi Yoda sew-on patch. many people i know teased me because i stored all of my Star Wars stuff away in ziploc baggies, insisting it would be worth something some day.
ok, i was wrong about Duran Duran but who's laughing now, monkey boy? me.
i have tons of silly useless Star Wars stuff - mostly relatively cheap stuff like stationary items - erasers, pens, scissors, stickers, book jackets, puzzles and the like. mostly Return of the Jedi, some Empire, some Star Wars... some of it would be for sale but i just put it all in storage. unless you're interested in a large lot of items, it's not worth the energy right now to un-store it. here is a list of everything. poorly formatted. again, without being able to sell the lot as whole, it just isn't worth the work right now. but if you like, email me with inquiries. i promise that some day i'll have a job again, and be able to get it out of storage to sell in smaller amounts.
just to be clear none of the REVENGE items are for sale. nope. none.
the poster? i can't part with it. i was going to sell it when Star Wars was re-released but y'know what? i found i'm embarassingly emotionally attatched to it. it reminds me that i was right. and well, it's just so damn cool hanging in the living room. so whaddaya' know? revenge IS sweet.
---
Revenge / last update: 12/01/01 all text and images copyright by DogBrain Enterprises and may not be used without express written permission.