the completely and totally
Unofficial Love And Rockets page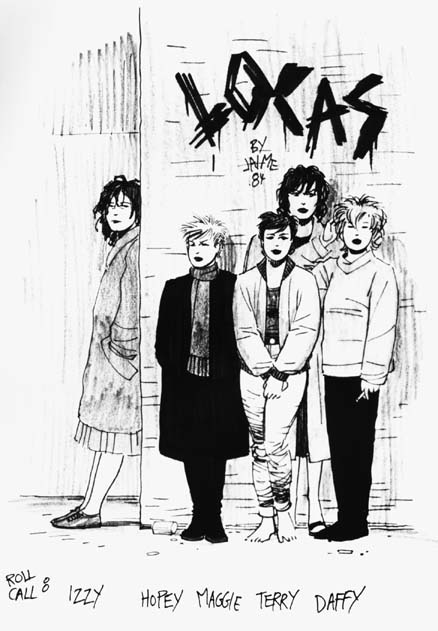 Love and Rockets is a comic that was created by jaime hernandez in the early 80s. hopey and maggie are at its center. two crazy young thangs who live in a future world of superheros and super mechanics. are they lovers? are they best friends? are they both? one thing for sure - theyre damn cute. izzy is one of their crazy friends... izzy rocks my world. have i mentioned that yet? penny is the mistress of one of the richest men in the world. terry is In The Band and daffy is just daffy. the punk scene they all live in and around keeps them from going sane and normal. thank goodness. the series is was going until just recently this year. now the hernandez brothers are working on other things! i bought it. now you buy it. simple. this page and the links are just my way of thanking xaime hernandez for what he has given me. recently i met xaime, gilbert and mario at my local comic book store. they signed my Pants. check it out at your local comic store too. here are just a few moments from Love and Rockets to tease and tantalize you into wanting more:

---

vida locas / last updated: 1/31/99 all text and images copyright by DogBrain Enterprises and Jaime Hernandez, and may not be used without express written permission.