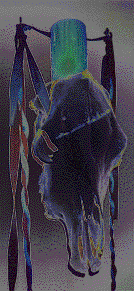 watch
out
for
the
flies
on
the
ceiling
---
---
---
---
welcome to edie land
HI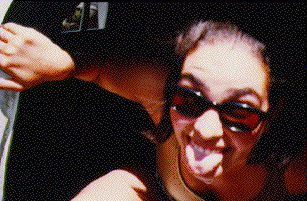 people call me edie. people call me izzy. no one calls me a princess. i started as edie@b in 1987. as in sedwick. it was easier to spell than adrienne. then the nickname izzy sprang up in 92. i dont know why it stuck. i have a black lava lamp with blue liquid and some unnatural colored pale goo in it... and that really doesnt have anything to do with anything...
but im cute, so its ok.
i do own the only Makita in our house... i adore my Makita...
and i happen to know what rhymes with orange.
i am the creator of and wear the Plaid Triangle of Pride. this means im sick of all sorts of people wanting to know what my sexuality is in order to base their opinion of me on that information.
i dance. i drink.
i say "Hi are you cute?" entirely too often.
as for the basics: i was born on staten island and raised outside of boston. half my family is still Back East and half is north of san francisco. speaking of san francisco - this is my brother's site! family is very important to me. [family photos] so are animals. so are my friends. my friends seem to get me in more trouble than my family or pets do. its my parents fault. i was graduated from UCSC in june of 91 with a BA in technical theater. i like to build things and my thesis was in stage management. i heart stress and can thrive on it. if you EVER need something organized, im the person to do it.
(ms. sedwick, herself)
i collect hats. i have 102. i collect black and white pictures of people kissing. i collect unusual candles but it is a more expensive hobby. i collect Lady and the Tramp memorabilia too. it is my all time favorite movie. [im a hopeless romantic] we used go to Disneyland each year and there was so little stuff for me to collect. LOTS of geeks went, though, so it was a blast.
i think anjelica huston is beautiful and john doe is one of the sexiest men to ever live. x is prolly the best band ever [although i listen to just about anything]. there are two sites i have found for x. one and two. their official site is finally up.
i adore love and rockets. thats the comic book NOT the band [although theyre ok too]. izzy rocks. comic books rock. did you hear me? comic books rock. sometimes i think im the only person i know who didnt religiously read Sandman. but i am addicted to a few comic books. heres my list of the comics i wait for every month. i write for an online 'zine called Sequential Tart. you should go look.
Ed Gorey is one of my favorite authors. Here is one half-decent link for him. Tom Robbins, Anne Rice, Alice Walker. Geek Love by Katherine Dunn and Grass by Sheri S Tepper. Temple of My Familiar by Alice Walker and Ender's Game by Orson Scott Card. READ. its good for you.
i am quite knowledgeable about repetitive strain injuries and workers compensation as i dealt with RSI from april of 92 til september of 96. now im just "permanently" disabled. yeah right.
like many of my friends, i am involved in the renaissance faires - specifically through the Renaissance Entertainment Corporation [as They are fond of calling themselves]. ive been doing Faire since 1985. they are my second family. and by now you should know how important family is to me. i work at the Northern California Faire.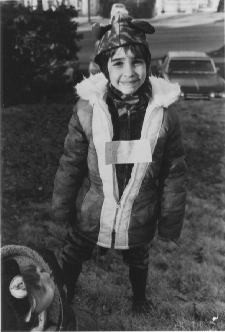 i did have one heck of a big finger file at netcom... they fucked me over. fuck netcom. fuck fuck fuck. but thats another story. i sort of collect finger files, from accounts ive had over the years, actually... if you're REALLY bored check out these finger files...
if you would like to comment on anything, please email me.
if youre surfing a serious net wave today, click here for a list of things i think are entertaining that are out there in the nebulous universe of the web... click here for something completely useless...

if you want to return to this page at any time just click the izzy picture.
no, that is not a paddle in her hand, it's a fly swatter. someone asked so i thought i should clarify.
remember: for every <ew> there must be a </yuck>
this is a picture of my Revenge of the Jedi poster. no joke, really.
and if you're looking for something that used to be here, that isn't any more, most likely it's fallen into the Archives. and dont you dare expect any links in there to ever be updated.
there's no place like Home
---
me me me / izzy@7thsign.com
last update: 04/05/01 all text and images copyright by DogBrain Enterprises and may not be used without express written permission.