29
Sep
I don't feel like I've done enough, just some errands and sit in meetings all day.
Since I've started a more sensible eating plan I've been losing some weight I should lose. This morning I was finally below 210. My plan? I eat when I'm hungry, not when I'm just 'not full'. I don't eat until I'm full, just comfortable. If I'm unsure I wait a little and eat more if I need to. So really, it's just me paying attention to my body and not stuffing food into it.
Now I just have to work on the weeds tomorrow and do the cleaning I was supposed to do this week before Nicole gets home.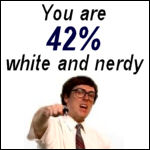 How White and Nerdy Are You?